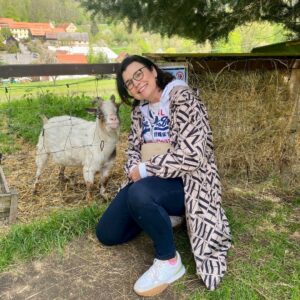 And right at the beginning I have to say that the reality completely exceeded my expectations. I'm sure we've all been in a situation where a hotel or guest house was well-photographed and praised to the skies, but the reality was quite different. So in the case of Geltschberg it was exactly the opposite.
Just the trip to Horní Chobolica was an experience, because we visited Litoměřice, a former royal town located at the confluence of the Elbe and Ohře rivers, with beautiful historical architecture and a pleasant atmosphere. By the way, it was in Litoměřice that Karel Hynek Mácha died when he was already sick and was participating in extinguishing a house fire. The irony of fate was that he fell asleep on the day of his planned marriage to Eleonora Šomková.
On the way from Litoměřice to Horní Chobolica, we drove through the beautiful landscape of the Český středohoří, where incredibly beautiful views gradually opened up. And since it was May, we were literally absorbed by the rich greenery, blending with the surrounding blossoming nature.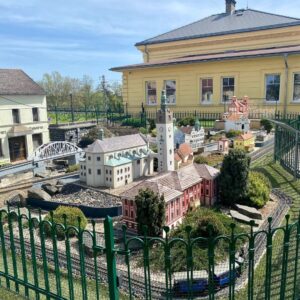 Litoměřice like in the palm of your hand
When we arrived at our destination, we found ourselves literally in the middle of vineyards, which were surrounded by virgin nature, in a place where, as the people say, "the foxes say good night", but it was an even greater experience.
Since there were only four of us – and all women, we chose the smallest house, Geltschberg Nr.1, which can comfortably accommodate up to 6 to 8 people. Mrs. Květuška, aka Mrs. B., as manager Palo calls her, showed us around the entire house, showed us everything, and explained it to us. So, we had a fully equipped kitchen at our disposal, including a dishwasher, microwave, oven, coffee maker and washing machine. Of course we didn't cook anything except tea and coffee, because Květuščina's delicious breakfast is something you have to try! The lower living room was dominated by a beautiful tiled stove and, of course, the central heating also worked. So you are not in danger of getting cold even in the most severe frosts. Upstairs there was another sitting area with a TV, but we never let it go, and two separate bedrooms. Of course, there was a large bathroom with a shower and a toilet, and another separate toilet.
The house had its own closed garden with two gazebos, a grill, a fire pit and a small pool. It was a bit cold for it, but it will definitely come in handy on hot summer days. In addition, a glazed veranda where you can sit in peace or perhaps have breakfast. We fried burritos one evening and grilled them the other, because as girls from the city it's rare 😊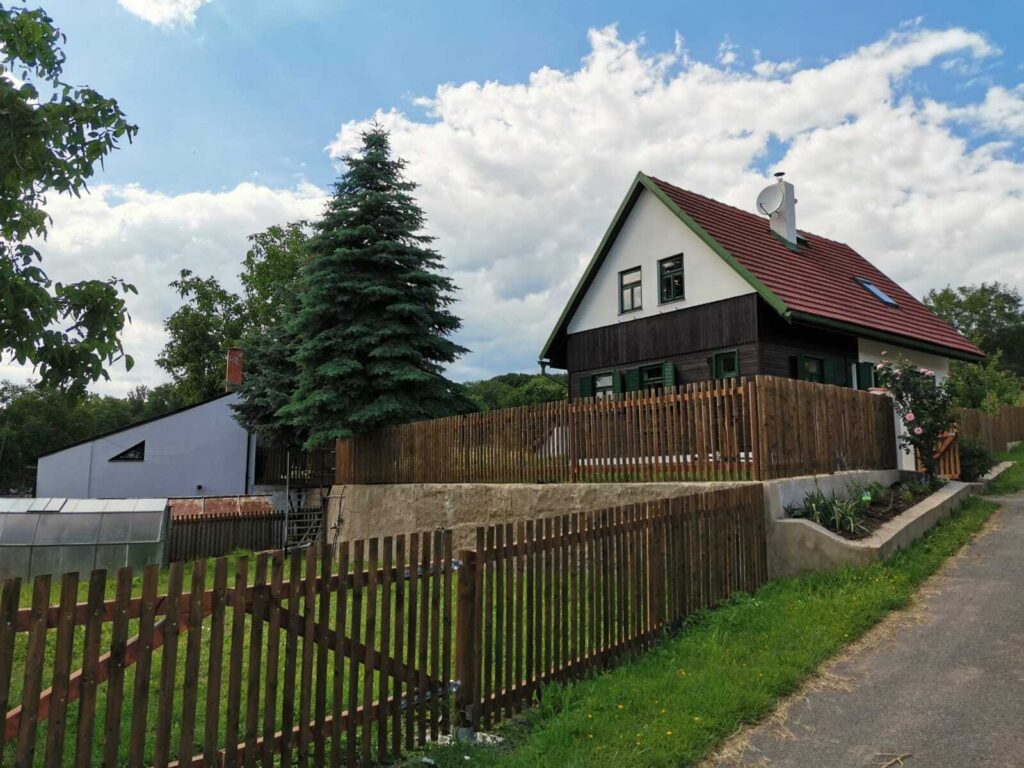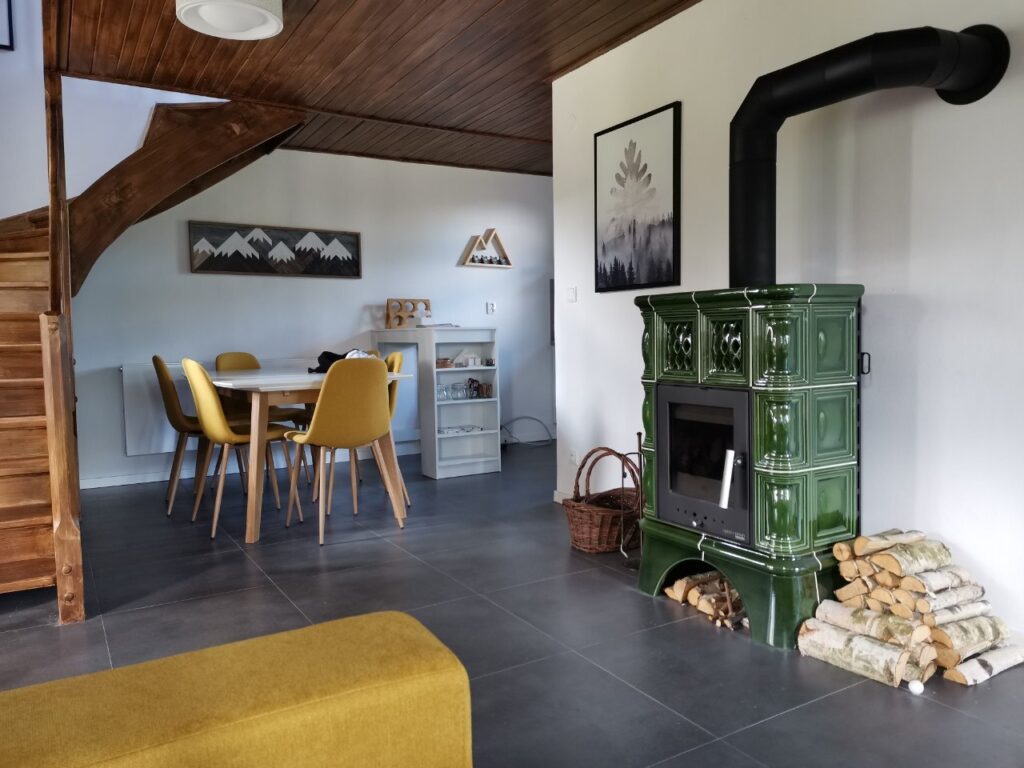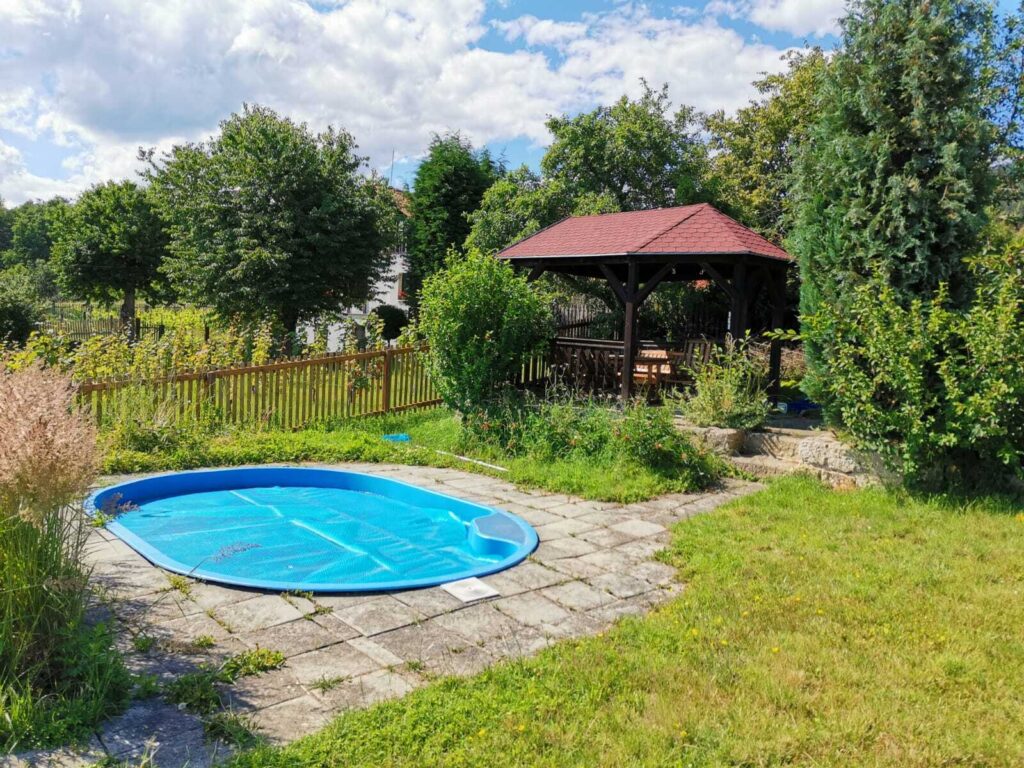 Another of the houses – Haus 44 has three separate bedrooms and comfortably accommodates 8 people. Otherwise, the equipment is very similar.
The last, and at the same time the largest, of the houses – Koblitzer hof will provide accommodation for 12 people and is additionally equipped with a sauna, a hot tub, a swimming pool, a games room with billiards and a gym.
So if you're planning to get away for a weekend or a whole holiday, if you're planning any kind of party, celebration, hen party or even a wedding, whether you're a family with small children or seniors with dogs, be sure to check out the Geltschberg site, because maybe it's the right place for you!
Where to go for a trip in the area?
And I will also add tips for two trips that, in my opinion, are worth it.
The first is Zubrnice, which houses the youngest open-air museum in Bohemia, where wooden, half-timbered and brick buildings, including an old school and an original village shop, stand next to each other, set in a hilly landscape. And we were also lucky, because on Saturday there was a fair that was really worth seeing and buying many traditional products.
And the second place is Úštěk, where burgher houses with arcades and Gothic gables form the smallest conservation area. The Bird Houses, which are carved out of the sandstone rock, and the Jewish synagogue with the old school, which has been preserved in its original form, are also worth seeing.
However, there are countless amazing places around Horní Chobolík that are worth seeing and visiting.
Oh, and don't forget to buy wines from their own vineyards in Geltschberg😊